FIBA World Championship 2006

Japan (Sapporo, Sendai, Hamamatsu, Hiroshima, Saitama)
19 August - 3 September 2006
Japan Organising Committee
7F Yachiyo-Bldg 1-12-13 Shibuya, Shibuya-ku
Tokyo 150-0002, Japan
Tel: + 81-(0)3-6418-4550
Fax: + 81-(0)3-6418-4551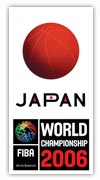 Japan will be the host for the most important basketball event on the globe. It's the first time that the country of the rising sun is hosting a championship of this magnitude.

The number of teams has been increased from 16 to 24. With this decision, FIBA reacted to the improved level of play on a global level and the fact that basketball is the most widespread indoor team sport around the world.
Most countries will qualify through the 5 continental championships in summer 2005, but 4 countries will receive a wild card based on certain criteria.
For one team, there will be a special task: after the disappointing sixth place in Indianapolis, the USA will try everything the regain the position as the dominating basketball power over the past 5 decades. But it needs their best to fulfill that mission….