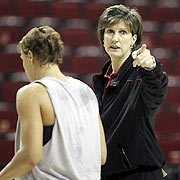 USA Basketball will apparently stick with a proven formula Thursday when officials are expected to name Anne Donovan head coach of the 2006 World Championship and 2008 Olympic teams.
Donovan, coach of the WNBA's Seattle Storm, was an assistant on the 2002 World Championship and 2004 Olympic teams.
USA Basketball has scheduled a press conference for Thursday afternoon to announce the coach of the two teams, provided the U.S. qualifies.
While this is the first year the men's team is requiring a three-year commitment from players under the same coach, the women have done it this way since the 1983 World Championships.
The 6-8 Donovan was a member of the 1984 and 1988 Olympic teams and has been involved with USA Basketball since she was a teenager. She has compiled a 75-4 record with the organization.
"It's the best decision they could make," said Dawn Staley, the head coach at Temple University and a three-time Olympic gold medalist who played for Donovan in 2002 and 2004. "She has pounded the pavement with USA Basketball, she has been successful in the WNBA (winning the 2004 championship)."
USA Basketball will select a core group of players to compete in the World Championships and possibly hold a training camp this spring. Staley won't be a part of the players group, though she is a strong candidate to be one of Donovan's assistants when they are selected later this year.
Staley, Lisa Leslie and Sheryl Swoopes combined to lead the U.S. to the gold medals in the 1996, 2000 and 2004 Olympics. Neither Swoopes nor Leslie are locks to be on the team in 2008, but Donovan's Olympic experience will be paramount.
"You're going to need a leader like her," Staley said. "Someone who's been through it who knows how to win gold medals. She was the top candidate, the only candidate in my eyes."
Teresa Edwards, a five-time Olympian who played with Donovan in 1984 and 1988, as well as in the ABL, said it's an "awesome" decision.
"She's been probably the most giving coach out there," Edwards said. "She's gone through the ranks as a player, no shortcuts. She's done everything that's been asked of her. I've always had tremendous respect for her, but once I played for her, I thoroughly enjoyed the knowledge that she brought to the game."