Phoenix Mercury forward Lisa Harrison turned down Playboy's "six-figure" offer Monday to pose in the magazine.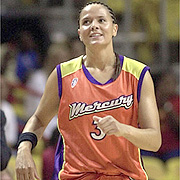 "Basically it came down to the money issue," said Harrison, who won an online poll of the "Sexiest Babes in the WNBA." "They didn't meet what I asked for. We went back and forth, they kept upping the money but they didn't quite get to where I wanted and I really felt like I need to stick to my guns and what I originally asked for."
Harrison, who earns $35,000 per season, wouldn't say if the offer was high six-figures, but said "it was good money. It was six figures. I could have, let's just say $500,000 in my pocket but I'm not going to look back on it, what-if, what-if."
Laura Sigman, spokeswoman for playboy.com, said the magazine hasn't closed the door completely.
"They are willing to re-visit it if she changes her mind, but that window is not open indefinitely," Sigman said. "It was a very friendly exchange. At the end of the day, they couldn't come to a financial agreement."
Harrison, who averaged 10.4 points and 4.3 rebounds this season, said she was not disappointed that she and the magazine couldn't reach an agreement.
"It was going to be exciting if I did do it," Harrison said. "I was really going to have to get in great shape. The travel and the attention that I was going to get was interesting and intriguing to think about. It came out this way for a reason and that's fine. Now I can just relax."
When it was apparent Harrison would win the poll, she said she would "not feel comfortable posing completely nude" or do anything to "degrade" herself or her reputation. But she said Monday that her parents supported whatever decision she made.
"Initially my mother was against it, and my dad was like 'go for it," said Harrison, who admitted she was a little nervous at first. "Initially, I was like, 'there's not way I'd do that.' But then Playboy sent me a couple of issues that Gabrielle Reece and Katarina Witt did. After I looked at their layouts I felt a little more comfortable with it."